Health | 04.13.2023
7 MIND Diet Breakfasts for Your Week 
By Franki Hanke
When planning your week's meals, it's easy for breakfast to get the short straw. You're short on time or hangry, so searching for the right recipe is a hassle. Instead, choose from our curation of seven MIND diet breakfasts this week which isn't just a list of seven different overnight oats recipes, because as good as they can be, we can't thrive on oatmeal alone!
These are selected to complement the rest of your diet, so these seven breakfasts alone won't meet the requirements for the MIND diet's nutritional guidelines, but they should fit in with the rest of your meals. They do strive to satisfy your daily requirements for whole grain carbohydrates and/or veggies.
If you'd like more recipe recommendations within the MIND diet guidance, read One Week of MIND Diet Recipes.
What is the MIND Diet?
The MIND diet is aptly named as a dietary plan to slow cognitive impairment or decline as we age, often related to dementia or Alzheimer's disease. It's often recommended for brain health, but these foods all fit well into an overall balanced diet.
The diet is a combination of two other diets: the Mediterranean Diet and the Dietary Approaches to Stop Hypertension Diet (DASH diet). The original diets focus on heart health (especially blood pressure) while the combination focuses on the overlap of the original diets with research on neurodegenerative delay. 
To read more about the MIND Diet itself, read our article The Brain Food Diet: How to Stay Sharp Over 40.
MIND Diet Foods
For a quick overview of the MIND diet, here are the foods you're recommended to have.
Green, Leafy Vegetables
It's recommended to have at least six servings of kale, spinach, bok choy, swiss chard, cabbage, and other leafy greens. As often as you can add some of these into your recipe, the better.
Other Vegetables
Other vegetables are equally important with one serving recommended daily. For variety, try all sorts of vegetables with a focus on non-starch options for more nutrients per calorie. Broccoli, cauliflower, legumes, zucchini, and squash are all great options, but explore what's local and in-season near you!
Berries
Berries, specifically strawberries and blueberries, have been linked with slower cognitive decline, plus they have antioxidants and fiber. The MIND diet recommends two servings a week.
Nuts
With five recommended servings weekly, nuts are a big part of the MIND diet's recommendations. They don't specify any kind of nut over another, so enjoy a variety of walnuts, almonds, pistachios, pecans, or other nuts you enjoy.
Whole Grains
It's recommended to eat three servings of whole grains daily. Experiment with a variety including oatmeal, quinoa, brown rice, and whole-wheat pasta or bread.
Beans
Beans are another heavy hitter in the MIND diet recommendations with four weekly servings recommended. Beans, including lentils and soybeans, are high in flavonols that reduce learning and memory impairment.
Poultry & Fish
While you'll enjoy these for lunch or dinner, the MIND diet recommends one or more servings of fish a week and two servings a week of poultry. It's best to limit red meat.
Lastly, when you're cooking, the MIND diet recommends extra virgin olive oil over any other cooking fat as a "healthy fat." Later in the day, enjoy a glass of wine (preferably red wine) for antioxidant polyphenols. One serving is the ideal daily serving for wine.
Foods Swaps
While it's behaviorally much easier to focus on additions to your diet, the MIND diet does have a few recommendations on foods to limit. When changing your diet, always focus on adding or swapping rather than avoiding, but here are foods to swap or limit.
Butter
Opt to use olive oil for cooking instead! For topping bread, try spreads like hummus (made from chickpeas), smashed fresh berries, or other creative alternatives.
Cheese
Find other ways to add more flavor to your dish. Blended cashews can make a wonderful spread for moisture while herbs can bring more flavor.
Red Meat
Instead of beef, pork, or lamb opt for poultry or fish. Experiment with vegetable-centric meals too!
Fried Foods & Pastries
Enjoy these as a treat or part of an experience.
Restriction is not the most efficient or enjoyable way to change food habits. Even when you're focused on healthy eating for your brain function, find joy in what you're eating. All the foods within the MIND diet can be wonderfully flavorful and enjoyable to eat, so if they aren't, please continue to explore recipes that will bring you joy!
If your nutrition is a series concern, please find a registered dietitian who can give you personal, specific guidance.
MIND Diet Breakfast Recipes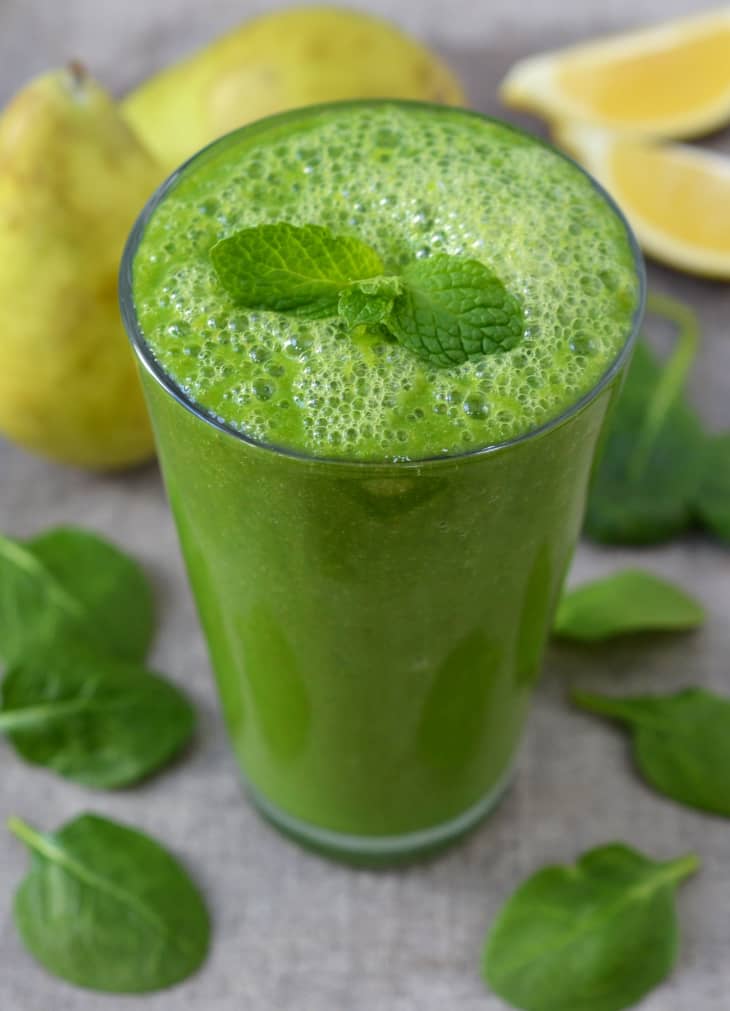 Monday: Green Smoothie
Recipe by Emily Han from The Kitchn
What better way to feel like that girl on Monday morning that to drink a green smoothie? Don't worry, this isn't a green smoothie designed to show off how healthy you are. It's actually delicious with a serving of spinach alongside pear.
If you're really rushed, the smoothie itself is great, but if you can spare the time, I recommend serving this smoothie thick in a bowl as the base for some other additions. Justine Doiron's Crispy Quinoa adds in some whole grain and a satisfying crunch, plus you can prep it the night before. Add in a handful of your favorite nuts too for another of your weekly servings and added texture. Pistachios would match the beachy feeling of such a bright flavor, but almonds would taste great too.
This recipe roughly satisfies one serving of leafy greens as is, but with additions, you can add in more nutritional oomph. The mint garnish isn't a full serving, but adds some good leafy nutrients!
Tuesday: Spiced Chickpeas and Greens Frittata
Recipe by Molly Baz from Epicurious
When you're worried about timing out your morning, frittata can be prepped ahead and just cooked or warmed in the morning. The size of your frittata may serve multiple days if you need to skip another recipe on this list.
When you want to dream up your own frittata, it's truly a blank canvas. Epicurious has an entire guide on mixing up new combinations too. The "Spring" variant even includes salmon for morning-time omega-3 fatty acids and a serving of fish, if you struggle to fit fish into your dinners.
This recipe's use of chickpeas (a legume) satisfies a rare breakfast bean, plus a serving of leafy greens. For the rest of your day, be sure to include an additional vegetable and a whole grain.
Wednesday: Jammy Blueberry Oatmeal
Recipe by Justine Doiron from Justine Snacks
Mid-week is when a cold breakfast doesn't cut it. That's why warm, jammy oatmeal is perfect. It's still quick when you've got things to do, but it's hot and a bit sweet for a little mid-week wake-up.
This recipe includes easy but insightful tips for making the ideal texture of oatmeal in just ten minutes.
This recipe roughly includes one serving of whole grains and one serving of berries. The quantity of peanut butter likely won't satisfy a whole serving, but it is a good inclusion. For the rest of your day, be sure to include a serving of leafy greens and veggies.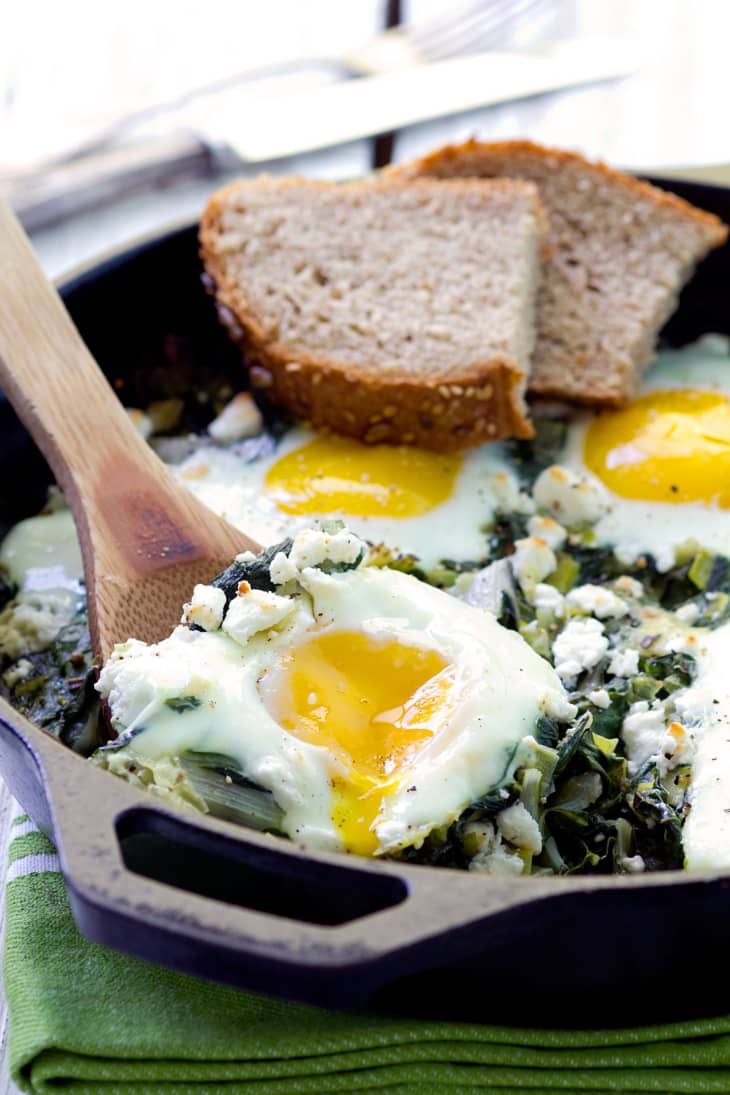 Thursday: Green Shakshuka
Recipe by Karen Biton-Cohen from The Kitchn
Combining a suite of vegetables and herbs with crumbled feta cheese in the oven, this green twist on shakshuka is comforting and flavorful.
If you're short on time in the mornings, it is possible to pull off this weekend-level breakfast. Prep all the ingredients the night before and leave sliced in the fridge. The active cooking time without prep is relatively short, so if you can spare about 20 minutes altogether, you can enjoy something really satisfying before your workday.
If you can't spare the time, take the same sliced vegetable combination and make simple scrambled eggs or an omelet instead for something quicker.
This recipe roughly satisfies a serving of leafy greens though it likely won't fulfill a full serving of vegetables. If you serve it with whole-grain bread, you can get your grains in too. For the rest of your day, add some additional vegetables to fully meet that daily serving.
Friday: Farro Breakfast Porridge with Raspberries
Recipe by Missy Robbins from Food and Wine
While it demands a bit of time for a weekday morning, this farro porridge is worth it for a filling, balanced breakfast that will keep you full through the busiest of Fridays. The farro is a change of pace for a week of only oatmeal.
If you can't spare so much active time at the stove, try an alternative porridge recipe using amaranth which simmers hands-off so you can get ready while it cooks.
This recipe roughly includes one serving of whole grains and one serving of berries. The pistachios won't satisfy any entire serving of nuts but are a good inclusion. For the rest of your day, be sure to include a serving of leafy greens and vegetables.
Saturday: Broccolini Sunflower Toast
Recipe by Justine Doiron from Justine Snacks
Saturday is for feeling a little fancy. You have some extra time compared to the week, and if you're lucky, you'll wake up late enough for some intense mid-morning sun while you cook.
This recipe is visually stunning, delicious, and a powerhouse of health benefits.
The ingredient list is a bit long, but it's all things you'll find at your regular grocery store, and if you're simplifying, you can safely cut a few elements and end up with a similar item (though with a bit less depth of flavor). The broccolini, as long as you eat 4+ ounces, satisfies your vegetable for the day while the basil and spinach are your leafy green. The sunflower seeds are one of your four, weekly nuts. If you make this recipe as written, you'll likely have some extra sunflower spread you can reuse too.
This recipe roughly includes one serving of leafy greens, one serving of vegetables, one serving of nuts, and one serving of whole grains. That's all the daily recommendations in one meal! The number of anchovies likely won't meet a full serving, but it's still a good addition!
Sunday: Brothy Beans
Recipe by Laura Wright from The First Mess
Get The Finer Life
Our Sunday email has tips and content you will love – exclusively for our subscribers.
"*" indicates required fields
Don't knock brothy beans until you've tried them. My love affair with beans has nothing to do with the MIND diet, in fact, the decreased risk of Alzheimer's is a second benefit of how comforting and delicious beans can be.
As a Sunday breakfast, these are all about ease. You start them when you wake up and then let them simmer while you sip on some coffee and siddle into your day all slow-like. They are not your sugary Sunday brunch, but a savory ode to slowness. Be sure to serve them with a nice, whole-grain bread for dunking. 
This recipe roughly satisfies one serving of beans and vegetables. I would add wilted kale for an additional leafy green. When served with bread, a whole grain is present.
Your Shopping List
If you're ready to boost your cognitive health with a brain-healthy grocery haul, here's your shopping list for the above recipes (as written). For a single person, you will end up with leftovers for some recipes.
Produce
-Broccolini (3 C)
-Fresh Basil (.5 C)
-Fresh Mint
-Mixed Herbs (Basil, Cilantro, Parsley – 1.5 C)
-Fresh Dill (BUNCH)
-Fresh Thyme
-Fresh Oregano
-Spinach (2.5 C)
-Hardy Greens (Mustard, Kale, or Chard – 1 BUNCH)
-Lemon (3)
-Pear (1)
-Fresh Ginger (1 Knob)
-Onion (2)
-Shallot (2)
-Celery (1 Stick)
-Garlic (11 CLOVES)
Pantry
-Anchovies (6 Fillets)
-Sunflower Seeds (.5 C)
-Pumpkin Seeds (1 TBSP)
-Chickpeas (2 15.5 OZ CANS)
-White Beans (1 LB)
-Kosher Salt
-Ground Cinnamon (.5 TSP)
-Bay Leaf
-Curry Powder (2 TSP)
-Smoked Paprika (.5 TSP)
-Olive Oil (3 TBSP)
-Honey
-Calabrian Chili Oil
-Peanut Butter (1 TBSP)
-Maple Syrup (1 TBSP)
-Miso (1.t TBSP)
-Vegetable Stock (6-12 C)
-Rolled Oats (.75 C)
-Flax Meal/Seed (1 TBSP+)
-High-Quality Whole-Grain Bread*
Dairy
-Pecorino Romano
-Sour Cream (.75 C)
-Mayo (2/3 C)
-Eggs (12)
Frozen
-Frozen Blueberries (1 C)
*If you have a local bakery with quality bread, I always support good bread, especially when going for a whole-grain carbs. A good bakery will make an enjoyable whole-grain loaf compared to many pre-packaged grocery options.
There you have it! Seven MIND diet breakfasts packed with healthy foods and full of variety and flavor, so you're not sacrificing your enjoyment for the sake of the meal plan. Be sure to pair these breakfasts with MIND diet meals for lunch and dinner with the rest of your recommended servings. 
The above content may contain affiliate links. When you click and shop, we receive a small commission to support our writers.
Want a Free Guide?
You will receive our free 19-page guide and access to our exclusive content, private invitations, and tips you'll love.
"*" indicates required fields
What do you think?
COMMENTS

0